NASA's Solutions for Enterprise-Wide Procurement (SEWP V) GovernmentWide Acquisition Contract (GWAC) is open to all Federal Agencies and approved contractors. SEWP V provides the latest in Information Technology products and services.
The SEWP surcharge for all orders is a 0.34%. The fee is included in the price of all items and is not separately listed on quotes. It is the Contract Holder's responsibility to pay the fee from their quoted prices.
All SEWP V Contracts have an effective ordering period of May 1, 2015 through April 30, 2025.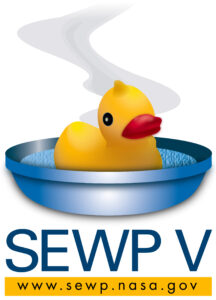 Contract Details
Contract Number:  NNG15SD90B - Group C - Small Business
How to Obtain a Quote:
The recommended method for getting a SEWP quote is by using the RFQ/RFI tool available at the SEWP website. Using this tool assists in providing and documenting fair opportunity (IAW Far Part 16.505 B). Quotes may also be obtained by contacting Flywheel Data directly, however you are then responsible for ensuring Fair Opportunity is provided.